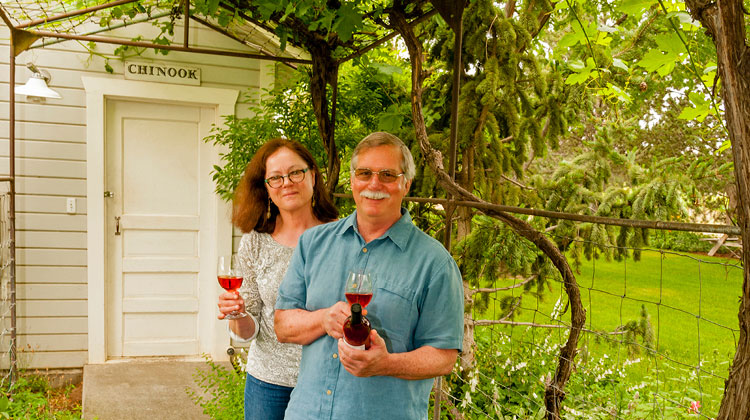 "We really don't have that in mind," says Kay Simon, co-owner of Chinook Wines, dismissing the notion of retirement.  Her husband, Clay Mackey, the other co-owner of this winemaking venture, chimes in, "No, not in the cards."  One might assume, with 31 years of successful winemaking under their belts, that the couple would be seriously contemplating the "R" word. But they have other ideas.
"We're at 3,000 cases and have been for quite some time," Clay says.  "There's really just the two of us, and that is a comfortable level.  Any more, and we'd be looking to hire some people."
Kay laughs, pointing out, "Whereas most wineries start out small and hope to grow, we started big and went small for quality reasons."  She was referring to the fact that in California, where they began their winemaking careers, both worked for wineries that delivered varietals by the trainload.
Perfect Pairing
After each completed degrees at UC Davis' renowned enology and viticulture program (which they attended at different times, and had yet to make each other's acquaintance), they independently gravitated north to Washington and its burgeoning wine industry.  Their paths converged in the 1970's when both began working for Chateau Ste. Michelle, and love ripened among the vines.
At Chateau Ste. Michelle, Clay exercised his degree in viticulture by tending to their grape growing needs, while Kay called upon her background in fermentation science to direct Chateau Ste. Michelle's red wine production.  It was only natural that they combine their professional talents, so in 1983 they launched Chinook Wines.
Upon A Warm Chinook Wind
When it came to a name for their new venture, Kay and Clay were looking for one with a Northwest influence, a moniker that would reflect a sense of place.  One evening as they sat outside and bandied about different names, they felt the touch of a warm Chinook wind.  They looked at one another and realized they had a name.  However, the warm air currents from the Pacific Ocean are but one definition of the word "Chinook."  Prior to the arrival of white settlers, the Chinook Indian Nation called the area of the lower Columbia River home—another source of the word.  And Chinook is one of five types of salmon.  Also called king salmon, the Chinook is the rarest of salmon and should elicit the environmentalist in all of us to preserve and protect this beautiful (and wonderfully edible) fish.
Now in their early sixties, vibrant and enjoying good health, Clay and Kay have weathered economic storms and a number of destructive elements Mother Nature has thrown their way.  One year, they had to cut their vines down to the ground following a deep freeze.
Despite the erratic nature of the industry, their internal compass has kept the winery on a steady course, guiding them to produce approachable wines that are both food friendly and affordable.  Both Kay and Clay are chefs at heart, and their style of cooking leans toward "vineyard cuisine," meaning their wine complements fresh local produce, cheeses, meats and fish.  Think fennel-crusted Chinook salmon paired with Chinook Wines' oh-so-quaffable Cabernet Franc.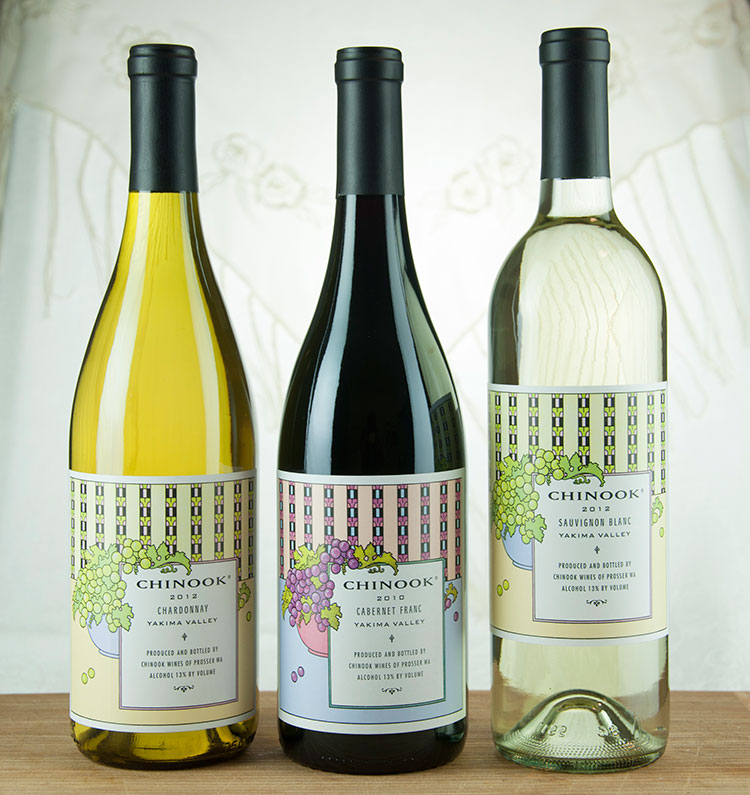 Opulent Yakima Valley Wines 
Take note that Chinook wines do not fall victim to the dreaded oak monster.  Kay relies on neutral oak to age her wines, although her barrel regimen does call for new French oak barrels on an annual basis, sans heavy toast.  The results are light but opulent wines that don't require years of cellaring; wines that express their varietal character at first sip and, equally important, showcase the terroir of the Yakima Valley American Viticultural Area—Washington's first AVA, designated in 1983 (coincidentally, the same year Chinook Wines got its start).
This couple also has a predilection for making single varietal wines, such as Cabernet Franc, Chardonnay, Semillon, Sauvignon blanc, Merlot and Cabernet Sauvignon.  For loyal fans of Chinook Wines, however, their Cabernet Franc is front and center, produced every year from a blend of many different vineyards in the Yakima Valley.  From the beginning, this winery has supported local growers, including such renowned vineyards as Dutchman Vineyard, Lonesome Spring Ranch, Boushey Vineyard, Oasis Farms and Upland Vineyards.
At harvest time, they don't have gridlock at the crush pad; fruit delivery, including that of their estate grapes, is spaced over a period of days.  Kay says, "I know one winemaker that dreads harvest time, but for me it is the best time of the year.  I love crush!"
This sourcing of fruit from various growers is another key to their success.  The couple is not dependent upon their own estate vineyard nor are they reliant on just one big grower.  They rely on many.  Thus, if one grower loses their crop to bad weather or another grower decides to sell their vineyard, Kay and Clay have mitigated their risk.
A Personal Touch
Lest you think that after 31 years, they have their winery operations down to a tried-and-true routine, think again.  The way Clay sees it, "The wine industry is the most competitive industry that I can imagine.  When you go to a grocery store, you might have to choose from ten different brands of detergent, but when you go down the wine aisle, there might be a couple hundred labels."  They continually tweak things to produce a quality product.
Cutting through the masses of other wines and differentiating your product is a constant battle, which explains why they have chosen to take on the distribution of their wines in King County and counties north of Seattle.  The personal touch they bring to the wine shops, select restaurants and a host of wine events throughout the year has helped them build lasting relationships.
In addition to furthering their wine business, Chinook Wines is also furthering the cause of saving its namesake salmonid.  They have teamed up with PCC Natural Markets in Seattle to create a customized label for "Long Live the Kings," a nonprofit organization committed to restoring wild salmon and steelhead in the Pacific Northwest.  For every bottle purchased, $2 goes to support salmon and steelhead recovery efforts by this organization.  Chinook Wines reflects the personalities and commitment of its owners.  Kay and Clay are an unpretentious, hardworking winemaking duo who freely admit they still have a lot to learn and can't imagine they will ever tire of producing stellar wines.  If but one word were to be used to describe these two, it would be "authentic."
You won't find Clay wearing a French beret or Kay directing the caterers in the placement of the pâté for the evening's garden party.  Nor retiring anytime soon, which spells good news for Chinook Wines' fans.
Written by Steve Roberts
GO WINE TASTING
Chinook Wines
The tasting room and vineyard are a few minutes from downtown Prosser, right off Interstate 82.
220 W Wittkopf Loop, Prosser WA
Open May-October on Sat-Sun, 12-5pm
Winter: call for appointment
509-786-2725
www.chinookwines.com
FEATURED WINE PICKS
Chinook 2012 Yakima Valley Chardonnay, $19
Made from old vine Chardonnay grapes grown by multi-generational Yakima Valley vineyard families, this medium-bodied wine is deftly structured, showing balanced acidity. Nose: Aromas of tropical citrus, green fig, blanched almonds and crème fraîche. Taste: Refined and refreshing, layered with green apple, citrus and spice.
Chinook 2010 Yakima Valley Cabernet Franc, $23
For over 15 years, Chinook has produced a Cab Franc sourced from their Prosser vineyard and other Yakima Valley sites. Nose: Compelling and earthy aromas of Rainier cherries, marionberries, tea leaf and herbal spice. Taste: Richly satisfying and pure fruit flavors of blueberry liqueur, black tea, with top notes of pie cherries and complex savory herbs on a lengthy finish.
Chinook 2012 Yakima Valley Sauvignon blanc, $18
The juice was fermented at a cool temperature to retain its floral and fruity aromas. A versatile food wine, try with Camembert or herbed chevre on rosemary bread. Nose: Intricate aromas of green melon, citrus and savory herb. Taste: Crisp and vibrant, there's a cut of slate minerality to the lemon-lime citrus and grapefruit, and a hint of lychee.