Five years after the sale of Betz Family Winery, the iconic winery continues to raise the bar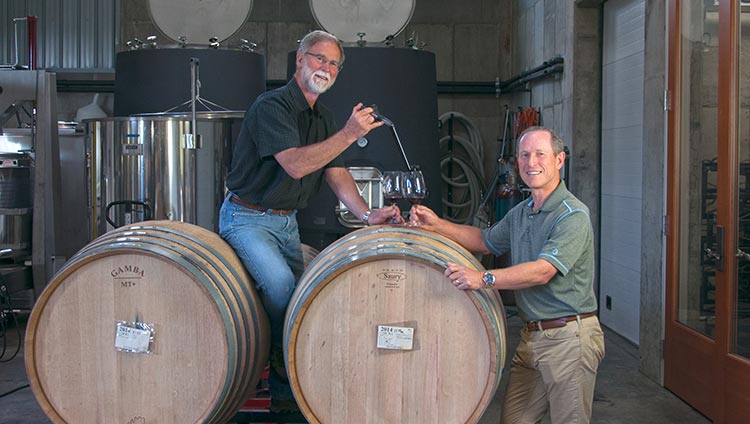 EVEN after 41 harvests in Washington wine, and 19 with Betz Family Winery, Master of Wine (MW) Bob Betz "doesn't see a back porch in his future" any time soon.  In 2011, then Betz Family Winery's 15th vintage, Bob and Cathy Betz started to explore what the next phase of their life would look like—both for themselves, and for the winery they created and shepherded into something of an iconic status.
A months-long search for a successor ended in a three way decision between two well-known Napa wineries, and a passionate entrepreneur and his wife, Steve and Bridgit Griessel, both originally from South Africa, who had lived in the states for 13 years and recently become U.S. citizens.  Each bidder required Bob to stay on as head winemaker for five years as a condition of the sale.  But when it came down to the final decision, the Betzes felt the family-owned option was best.
"Bringing on Steve and Bridgit will help to keep the family DNA alive," says Betz.  "It has allowed me to focus more on vineyards, winemaking and the final blends, and less on running the company as Cathy and I had done before."  Over the past five vintages, he also feels this process has netted positive results in wine quality and character for his coveted Bordeaux- and Rhone-style blends.
And although changes are already afoot, with the establishment of the winery's first estate vineyard (a 12-acre plot in Walla Walla), Griessel feels his highest concern is quality.
"Our mission is to still be making wines according to Bob's principles many years from now," says Griessel.  "We will continue to push the envelope of quality in the vineyard and winery as has been the case since Bob and Cathy started 18 years ago.  We feel like Bob and Cathy's kids and we have an enormous responsibility to continue what they have built."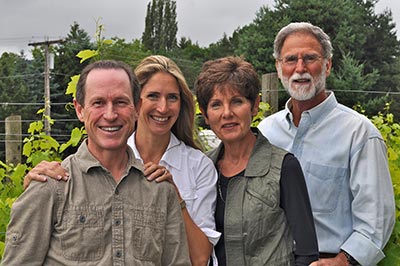 Griessel founded, built, then sold a collection of 43 companies in the tourism industry throughout Southern Africa, moving to the states in 2002.  "We love the USA because of the opportunities it presented for us to spread our wings and the opportunities for our three kids.  There is no other place like the USA and we are now proud American citizens."
But what would compel a successful CEO and businessman to make such a drastic change, move to a small town in Washington to take over a small but iconic winery?  Put simply, a passion for wine.
During their travels abroad, Griessel and his wife Bridgit learned about and collected wines from around the globe.  Over the years, they fell in love with the wine world, and had a dream to one day own a winery.
"Initially it was just a fantasy, but I promised Bridgit that if we were able to successfully sell the business, that we would take a year off to look for a winery and that's what we did," says Griessel.  "Never in our wildest dreams did we think we could own a winery like Betz Family!"
For Betz, the transition has been a slow, planned move.  Bob's title of winemaker and 'patriarch' has held true for the past five vintages since the winery was sold, while passing on his knowledge to the Griessels along the way.  Steve reflects on all that he has learned in the interim, and that "everything starts in the vineyards."
"Our learning curve has been steep and that will continue for the rest of our lives," says Steve.  "Hundreds of little steps, attention to detail and never cutting corners are what give you the chance to make a compelling wine.  There is no silver bullet," he says.  "We have learned about the deep passion the Washington wine industry has for what we do.  We are also blown away by the support that we receive from our customers, many of whom have become friends."
Going into his fifth vintage, Griessel seems focused on the present, on getting things right, living at the winery, and hasn't made any radical changes to what was working for the winery for the past almost two decades.  There are no plans for a tasting room or increased production to any great degree.  "We are committed to a level of attention to detail and ongoing experimentation that requires that we remain a limited production winery," he says.  "That's what keeps us motivated and excited.  Based on that, we will continue to grow production slowly as quality allows."
Today, the winemaking team is imprinted with the Betz DNA.  And until the transition is complete in the approaching months, Griessel and assistant winemaker Louis Skinner still work hand in hand with Betz on every aspect of viticulture and winemaking.
But a few new things are in the works.  The new 12-acre vineyard in the Walla Walla Valley AVA will produce three clones of Cabernet Sauvignon, as well as Merlot and Petit Verdot.  Adding to the long-term relationships they have with Klipsun, Ciel du Cheval, Kiona, Snipes Mountain, Boushey Vineyard and Red Willow, this small new vineyard will give Griessel the opportunity to add another dimension to the existing Bordeaux blends and perhaps to make a small single-vineyard Cabernet Sauvignon blend in the future.  Another estate vineyard in The Rocks District of Milton-Freewater AVA is in the winery's future.
"We will continue to follow in Bob and Cathy's footsteps, learn from them and continue the tradition of ensuring quality trumps everything," says Griessel.  "Having Bob mentor us is an enormous privilege and we want to make sure we are worthy recipients of the legacy he has built."
For Betz' part, he admits to having "the best career I could have imagined."  Indeed, his career is about as impressive as it gets in the wine biz, with 28 years with Ste. Michelle Wine Estates and nearly 20 at Betz Family Winery.  "I'm a born optimist, so there were no great hurdles along the way, only opportunities," he adds.
"Being part of the Ste. Michelle team since the mid-70s is a highlight of its own," says Betz.  He was around since the early days of the company and the state's industry, even before Ste. Michelle's chateau was built in Woodinville.  He calls being part of the Col Solare and Eroica teams, as managing director, "an enormous thrill."  Founding the Betz Family Winery and making the wines was the realization of decades of dreams for Bob and Cathy—and building the winery itself, what he describes as "a winemaker's winery."
Betz has no plans to stop being involved in the wine world.  "Hands on winemaking is very satisfying, and that may be part of our future," he says.  "But certainly I'll remain active in the industry."  He intends to continue to lecture for the Institute of Masters of Wine, mentor students, and hopes to continue to judge wines for a range of international competitions.
Reflecting on Washington State as a wine-producing region, Betz says, "Washington's greatest strength is the Columbia Valley itself.  Its unique combination of physical characteristics allows us to successfully grow a range of classic varieties and compete on the world stage with wine quality and character."
He continues, "Our major challenge is myopia, focusing inward rather than seeing the need to constantly improve quality so that we can continue to compete in that global arena.  I hope we never rest on our laurels but innovate, experiment and excel."
When asked about the "R" word (retirement), Bob replies with a grin, "Old winemakers never die, they just soften their tannin.  The global industry changes every year and opportunities abound," he says.  "I don't see a back porch swing in my future."
Well maybe, if it involves great conversation and a glass of fine wine.
Written by Shannon Borg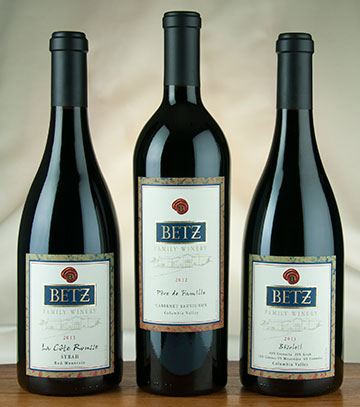 Editor's Top Picks – Recommended Current Releases
Betz Family Winery 2013 La Côte Rousse Syrah

A powerhouse Syrah swathed in 100% Red Mountain fruit—a blend of three different blocks from Ciel du Cheval Vineyard planted to three different clones, plus Phelps clone Syrah from Kiona Vineyard.
Nose: Generous dusky aromatics with scintillating scorched earth, brooding blackberry and black cherry with floral notes of violet and graphite.
Taste: Opulent, lush and dense, exhibiting a weighty mix of smoke-edged flavors: crushed gravel, game and earthen spice offset with tantalizing rich dark fruit of blackberry and black cherry. The tannins are finely integrated and contribute an extra layer of posh mouthfeel to the finish. $55  —JV
Betz Family Winery 2012 Père de Famille Cabernet Sauvignon
With a backbone of Red Mountain Cabernet (90%), small amounts of Merlot (6%) and Petit Verdot (4%) round out this profuse red wine.
Nose: Dark black and red fruit, leather, pencil shavings, lavender and hints of roasted herbs.
Taste: Powerful and broadly textured with a dense layer of sweet tannins that coat the palate, followed by concentrated flavors of cassis, black and red berries, roasted fennel, crushed pebbles, thyme and bay leaf. There is a dusky earthy quality to the focused finish. $72 —JV
Betz Family Winery 2013 Bésoleil Grenache
A winsome blend of Grenache (49%), Syrah (20%), Cinsault (16%), Mourvèdre 9%) and Counoise (6%).
Nose: Brimming with aromas of ripe raspberry, grilled watermelon, fresh herbs, white pepper and pancetta.
Taste: This sublime red wine is defined by a pillowy soft texture, purity of rich fruit and smooth river rock minerality. Swanky flavors of raspberry, wild strawberry and fig harmonize with savory aspects of anise, smoke, charcuterie and earthy terrain. $45 —JV